YES!! Times have changed...schools have changed, church has changed, worship has changed, technology in church has changed...so why is Sunday school STILL the SAME?!?! I don't get it and I won't stand for it :) I love to write and I'm trying to write my own curriculum that is different from anything else out there that is not read word for word (kids don't like that and neither do I) and simpler. This is my new mantra...simplify, simplify, simplify!! There is no reason that Sunday school teachers should have to plan for 1-2 hours per week to teach their class about God. It can be easier and still be meaningful! While I'm working on that however, I am enjoying learning about different ways to use technology in our sunday school rooms and I love the idea of using tablets and apps...maybe every Sunday during some part of our class or maybe a special rotation once a month. Like I said, I'm still working out exactly how this will work, but thought I'd go ahead and start compiling cool apps that I have heard about or used. I've joined a facebook group called children's pastors only and there have been some really good suggestions. So this is my "running" list that I will hopefully keep adding to as I find more :) To see how I've used some of these apps in lesson plans for our Sunday school go HERE.
Of course we have our well-known "givens" - facebook, pandora, pinterest, the Bible app and dropbox has become popular (and useful). So I'll start my list with others you may not have heard of (I hadn't heard of many of these!). After some reading I've divided my list into 3 parts -

games/education apps

,

organizational and classroom tool apps (including check in)

and

creative/media apps

for things like making flyers.
GAMES/EDUCATIONAL APPS

to use in church, Sunday school, at home, mid-week activities, etc.
1. Bible App for kids by Youversion -
from the website - "Through interactive adventures and beautiful animations, kids explore the big stories of the Bible. The Bible App for Kids is a delight-filled experience designed to encourage kids to return again and again. It's the beginning of a lifelong love of God's Word.
* Easy, kid-friendly navigation
* Colorful illustrations
* Touch-activated animations
* Engaging, interactive content that brings the Bible to life
* Fun facts and activities designed to help kids remember what they learn
* Special challenges that let kids earn rewards
The app is free and available in English, Spanish, Chinese, Korean and Brazilian Portuguese. It is available for Apple products, Kindle and Android! Why don't I already have this for my kids on their ipad?!
And I just found out that there is a new FREE curriculum (two year plan) that goes along with this app! Here's the link.
2. NIV Adventure Bible Game App - I got this for my kids and it is awesome!! It has games like jeopardy and who wants to be a millionaire and also has games that help you learn places in the Bible (maps), the books of the Bible and memory verses. Says for ages 6-8 but you could go older. It's free (!) but I think it's only available for Apple products.
3. Kidblog - I love the idea of kids blogging. I know not all of them want to do something like this, but those that want to, should be given the chance. I haven't used this app, but it looks pretty self-explanatory. I have a second grader and his class blogs every other week or so and it's really neat to see what they have written - even if it's just a paragraph :) They can comment on an activity they did in class, a story they learned, or anything that's on their minds. What a great way for parents to know what they are learning! It's free but only for iphone/ipad. *update* this has recently changed - it is no longer free. There is a monthly charge. Although I like this app, I have changed my church blog to google.
4. Bible Trivia. (link goes to itunes, go here for Android) There are a lot of Bible trivia apps out there but this is by FAR the most popular and is ranked 5 stars. It's free and available on ipad, iphone and a similar one by the same company on Android. Seems like a no brainer :) Gotta get it!
5. Have you seen the American Bible Challenge Game Show on the GSN? It's a pretty neat show and they also have an App! It's free, in all different languages and available for apple and Android products. The only thing I'm not sure of is the difficulty. It does say it has levels but I don't know what age level it is recommended for. It's free so you can always try it out :)
6. The Superbook Bible App is a fun app with games for preschoolers and older. It's available for kindle, android and apple plus it's free!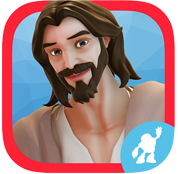 7. Show Me - My second grader's teacher also uses this free app and finds it very helpful. She says that it serves as a recordable, interactive whiteboard. Her words, "I can display the iPad screen through the projector and either work through a problem for the students, or pass the iPad and have the students work through a problem. I've also used this to record students as they explain how they are working through a math problem. I post these videos on our blog as helpful "how to" videos for parents. I've also emailed the recorded videos to the students' parents to show off how well they're doing!" I can already picture how we could use this in our Sunday school rooms!! I think it is only available for apple products.
8.
My story
for Ipad/iphone and Storymaker for Android. My story description ($4.99): "* Create and share ebooks and stories by adding drawings, photos, and stickers.
* Record your voice on every page and share your story with friends, family and classmates!
* Choose from dozens of fun stickers already included in the app, no extra downloads needed.
* No in-app purchases, hidden ads, or additional costs.
* Share your storybooks to the web, on Facebook and Twitter, and standard ePub format to be viewed in 3rd party apps or edited in iBooks Author. Or export as a movie to Mp4 format straight to YouTube!
* Teacher friendly: allows for multiple authors and syncing across multiple iPhones and iPads through Dropbox!
Sounds great - I'd definitely make this a "must have" app for Sunday school!
Organizational and classroom tool apps (including child check-in)

1. Remind - This is a very popular App and I have it on my phone and want to use it with my Sunday school class as well as the entire children's ed department! You can keep in touch with parents about class activities, upcoming events, etc. without them having to know your phone number or vice versa.
2. Classdojo - My child's teacher uses this in the public school. It's mainly a behavior tool to let parents know how your child is doing in the classroom, but you can also communicate with everyone as a whole group, individually...even send pictures and links. I'm thinking this would be a great tool for classes at church, and remind would be great for the entire children's department...
3. If you lead a small group, this app was recommended - Leadsmall. From the website:
"It helps Small Group Leaders stay in touch with their group by keeping everyone's photos, info and prayer requests all in one place. You can also send group texts, too! It is packed with daily tips and ideas to help Small Group Leaders be more awesome at it. And, small Group Leaders get a guide for their weekly conversation, and a devotional for themselves delivered straight to their phones every week!" It's free and available for Apple and Android.
From the webpage - "Pages is the most beautiful word processor you've ever seen on a mobile device. This powerful word processor helps you create gorgeous reports, resumes, and documents in minutes. Pages has been designed exclusively for the iPad, iPhone, and iPod touch with support for Multi-Touch gestures and Smart Zoom." It's $9.99.



5.

Bitstrips for schools: This is a fun alternative to do in response to a story or lesson instead of blogging :) Basically, you create your own comic strip...and you can star in it! The opportunities for this are endless and the kids would love it...however, it is $10 a month. Unless you plan on using this alot it may not be worth it. Be careful that you don't get the Bitstrips app...it is for 12 years and older and has inappropriate content. Available for Apple and Android.
6. Quite a few educators recommended Edutecher. I downloaded it on my phone but it has frozen on me a number of times. Not sure why. It's a free app availbable for iphone/ipad and android and helps you search through all the apps according to subject or functionality. It's just a great way to find and learn about other apps that are out there.
7. Vittle is a good app for story-telling. This would be fun to use when telling or retelling a story that you can illustrate as you tell...or the children can illustrate :) Click on the link and check out the video. It's free but you can only get one page and one minute recordings with the free version. You can upgrade to get more for $8.99. It is only compatible with ipad.
8. Explain Everything sounds like a really neat app if you have the equipment in your classrooms to show presentations, videos, etc. I would love to get to this point in Sunday School! I'm already picturing all the cool things we could do :) On the app store for the iphone it says it costs $2.99 and on the website it says it is also available for Android devices.
9. Whiteboard. I'm not sure how this is different than Explain Everything. It seems like this wouldn't be necessary if you had the Explain Everything app. The reviews say that it is "ok" but that it has too many ads. It's made for apple products and is free.
There are a lot of apps out there for check in - for Sunday school or nursery. I'll list them, but here's my two cents. For something this important I wouldn't rely on technology. Way too many things could go wrong. Some of these rely on wireless and we all know how often that stops working. Parents could forget their phones, have them on mute, your system could be down, etc. Another person commented that they spent $800 on a check in system and the internet tended to run slow because the server was being flooded with all the churches that were using the system at the same time. The church I just started with has a sign in sheet for the nursery and the restaurant type buzzers. We have the cell phone numbers just in case. I'm not completely happy with it because there needs to be name tags for visitors and their belongings...but I like the check in process. Simple! But, if you are looking for something different, here are some apps that were recommended...
10. nursery alert - available for android and apple. Apple has it listed as $3.99.
11. Check in easy - Android and Apple. Free to check in up to 50 people.
12. Kidddo Kiosk - Android, Apple and Kindle. Free up to 20 people then $10 a month.
13. Lambslist - this is a $50 a month program or $500 a year to check in, acquire data, keep track of volunteers, members, etc. I didn't see anything on the website about an app.
14. Planning Center is also an online program that oversees check in, registration and many other things. It also has an app. It's more expensive than Lambslist at $126 a month for a medium church.
15. Real Time can be used for your entire church as well as ministries and check in. For a 300 person church it is $50 a month. It also has an app for Apple.
16. Sonblest Technologies is another program for the entire church to use.
Creative/media apps and websites
1. Glogster - I had no idea what this was...or what a glog was, so I watched a video on youtube :) Basically, it's a way to create an interactive poster. Pretty cool actually. I could see using this in our children's ministry. Pricing can be found here. Elementary schools cost $39 a year...
2. Print Artist - $38 on amazon...but read the reviews - the majority are not good.
3. picmonkey.com - collages, touch ups, editing...
4. publisher - link takes you to amazon. by far this is the most recommended from the facebook group on how to edit pics, make posters, etc. However, if you have a tight budget $100 may be too much to spend...
5. Phoster - $1.99 - that price sounds more doable, right? :) This app creates posters and invitations. Available on apple products. But Android has a similar one called Photo Editor pro that has great reviews and is free.
6. Canva - free. There may be a catch but it looks like a great website and the ipad app is free.
7. Smilebox - another website that creates slides, invites, collages and more supposedly for free.
Well that's it! So many good ideas out there - this is just a start! If you have any great apps or websites you want to share that make your kid ministry better than please share! It's fun too keep up with the latest apps and programs but also very difficult without sharing! So share away! :)
In Christ,
Laurie